How to Clean Copper Jewelry?
So you came across that copper jewelry they gave you for Christmas, and you're wondering how to clean it, you have come to the right place. You can restore and make your copper jewelry look brand new, and today we'll be telling you all about how to clean copper jewelry.
As a copper jewelry owner, you must be aware that your copper jewelry, even pieces that have been lacquered or sealed, most likely will tarnish over time because of exposure to sulfides in the air, as well as humidity. Here is where proper cleaning techniques or methods should be employed to keep your jewelry in top shape for as long as possible.
How to Clean Copper Jewelry
Rolite Brass & Copper Cleaner cleans, shines and protects, produces a brilliant shine on all brass and copper surfaces in a few simple steps: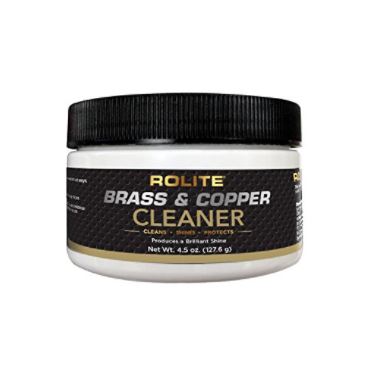 Apply Rolite Brass & Copper Cleaner with a clean, dry microfiber cloth
Do not use water Surface should be clean, dry, and free of dust before application. Apply sparingly. Rub gently in a circular motion. For maximum shine
Buff off immediately while Rolite Brass & Copper Cleaner is still moist.
Restore your copper to its original beauty by erasing the discoloration.
This mild formula allows safe use on jewelry with diamonds or gemstones; it is formulated with the finest ingredients that keep your copper and other metals beautiful for years to come.
Used on cups, jewelry, Moscow mule mugs, pots, pans, sinks, doorknobs, and other copper pieces around your home.
The finest ingredients keep copper and other metals beautiful for years to come.
It rejuvenates dull and tarnished silver by removing tarnish and polishing it to a brilliant shine. It is an anti-tarnish formula that allows safe use on jewelry with diamonds or gemstones.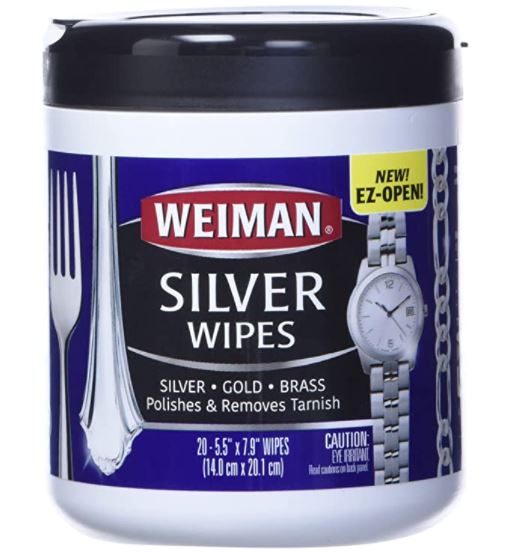 Natural ways how to clean copper jewelry
Baking Soda + Lemon Juice
This is a powerful combination that is sure to leave your jewelry looking new. Follow the steps below:
In equal amounts, mix baking soda and lemon juice to make a paste
Using fingertips or a clean, dry cloth, rub this mixture onto your copper jewelry
For jewelry with nooks and crannies, use a toothbrush
After a few minutes, rinse the paste from the jewelry item thoroughly
Set aside to dry completely
Lemon Juice + Salt
This lemon juice and salt method works like a charm in cleaning your copper jewelry.
However, very important, in the case that your jewelry piece has gemstones, soaking it in acidic lemon juice may not be the best idea since it can potentially damage your gemstones. In any other case, follow the steps below:
Pour some lemon juice onto copper jewelry.
Sprinkle table salt onto the surface of copper jewelry
Using a soft cloth, rub the item to remove tarnish
You can also sprinkle salt onto the cut half of the lemon and then rub the copper with the salted lemon wedge
Rinse with clean water and set aside to dry completely
Vinegar + Salt
Like the previous method, Vinegar and gemstones don't go well together. If your jewelry features gemstone, skip this method.
Pour vinegar into a glass or plastic bowl so that your copper jewelry is submerged.
Add some salt for a deeper clean
Let soak for 15 – 20 minutes
Rinse off all the vinegar
Dry it with a soft cloth
Ketchup
Yes, you are reading correctly. The same ketchup you enjoy for your fries does a great job cleaning your copper jewelry because of the vinegar contained in the recipe.
If you have ketchup lying around, give this method a good try by following the steps below:
Squeeze ketchup onto the copper item until the item is covered
Rub copper item with fingers, a cloth, or a toothbrush until tarnish is gone
Rinse well
Set aside to dry completely
Salt + Vinegar + Flour
This is another good option to clean your copper jewelry using products from your kitchen.
Place one tablespoon salt and one cup white vinegar in a bowl.
Gradually add flour and mix until paste forms.
Apply the paste to the copper bracelet, rubbing over the tarnished areas.
Leave to sit for fifteen minutes to one hour.
Rinse with warm water and polish.
Common Questions How to Clean Copper Jewelry
Why use copper jewelry?
Copper jewelry is truly stunning, and also many people prefer copper jewelry over jewelry items made of other metals due to its health benefits. Not only are there health benefits to wearing copper jewelry, but copper is also a very durable form of metal, making it ideal for jewelry designers to shape jewelry.
What are some of the benefits of copper jewelry?
When the copper jewelry item is in direct contact with the skin, micro-nutrients of copper enter the bloodstream in small doses without overwhelming the body. This is beneficial for people with a copper deficiency. Copper is used in bone, nervous system, joint and circulatory system health. When too much Vitamin C or Zinc is ingested, this can block copper absorption, leading to arthritis and circulatory issues.
Are there any spiritual benefits?
Copper is considered the body's metal, viewed in this way; it is believed that copper can also have spiritual and holistic benefits. Copper is then used by people as a grounding and protective source.
Do you need to clean your copper jewelry?
Most jewelry pieces come with a soft polishing cloth. Regular rubbing is usually all that is needed to keep your bracelet sparkling and beautiful. If your bracelet becomes tarnished, then there are a few methods that can be employed to restore your jewelry to that mirror-like shine.
How to clean copper items that have been sealed?
For copper that has been sealed, it is best to use a jewelry polishing cloth; this method is best because jewelry items that are sealed don't tarnish as much; therefore, buffing with a polishing cloth can help to remove any dullness and make the copper jewelry item gleam with brilliance again.
Is it safe to use a commercial cleaner for copper jewelry?
In the case that your jewelry very deteriorates, a cleaner is highly recommended. However, it would help if you kept in mind that some commercial cleaners might be too harsh for your copper jewelry. These could end up scratching your jewelry piece rather than polishing it. Therefore, it is recommended that you buy a commercial cleaner dedicated to copper specifically and carefully follow the instructions on the commercial cleaner.