In search of different types of slings to lift your stuff? We hear you; lifting slings are a key element of the overhead lifting process. If you have to deal with a heavy pallet of bricks or a bundle of steel frames that need lifting, you'll need a lifting sling. So today, we'll be talking about different types of slings.
There is no doubt that slings have a clear purpose since numerous different objects need lifting. And because numerous items need lifting, there are also many different slings to suit these items.
If you are new to slings and have no idea where to start, check out different types of slings and learn the differences between them to determine which type of lifting sling will be the right match with your lifting equipment.
Types of Slings
Synthetic Slings
The most versatile kind of sling, the synthetic sling, is typically made from either nylon or polyester fibers.
All synthetic slings are lightweight, easy to manipulate, store, flexible, and perfect for securing breakable or delicate loads.

These attributes make synthetic slings essential to have around and the most popular choice for riggers. However, these slings should not be used in extreme or rugged conditions, as they will wear down more quickly than other types of slings.
Chain Slings
Chain slings are the strongest and most durable slings, making them especially suited to heavy-duty construction, mining, and manufacturing operations. They are handy for lifts in scorching temperatures or to secure extremely hot loads.
Generally made from alloy steel, these slings can take a lot of punishment in a construction setting without being damaged. But, the slings themselves can be quite heavy and not as easy to store or move around frequently.
Wire Rope Slings
More durable than synthetic slings and more cost-effective than chain slings, many in the construction industry make wire rope slings their sling of choice.
Wire rope slings are made by weaving individual strands or wires around a core. This makes them extremely strong and resistant to abrasion or cutting.
Many favor wire rope slings because they come in various materials, lay, diameters, and configurations. Hence, finding the perfect sling for the job is always easy. However, wire rope slings can be susceptible to kinks and twists, so inspecting them before using them is always important.
Metal mesh slings
They are made from carbon steel, stainless steel, or alloy steel. Can be coated or impregnated with elastomers (e.g., PVC, neoprene).
They are resistant to corrosion (carbon steel and stainless steel slings). Metal mesh slings are suitable to use when the loads are hot, abrasive, and have sharp edges that could damage the other slings. Do not stretch extensively.
Fiber rope slings
Fibers used to make rope slings generally fall into two categories:
Natural such as abaca (Manila) fiber
Synthetic, including nylon, polyester, polypropylene, Kevlar.
Where to Find Slings?
This is a heavy-duty nylon twisted eye and eye sling. "TE" Web sling made with a loop eye on each end at a right angle to the plane of the sling body. T
his type of sling is commonly referred to as a "twisted eye" sling. This sling is suitable for all hitches but is recommended particularly for choker hitch applications.
This sling is 2 ply and rated for 6400 lbs vertical load, 5,100 lbs choker hold, and 12,800 lbs basket hold.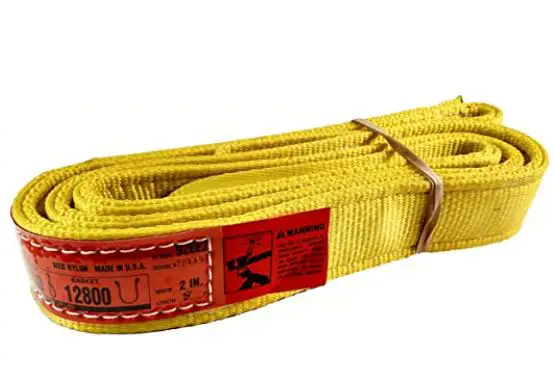 Features:
Flexibility
Strength
Non-marring properties
---
Keeper lifting slings are made with the industry standard Polyester webbing. Polyester allows for minimal stretch while under load and excellent wear properties.
Both looped ends are wrapped with a wear-resistant cover giving additional protection at the contact points, providing more durability when attaching to bow shackles or over hooks.
Each lifting sling will carry different capacities depending upon how it is being used.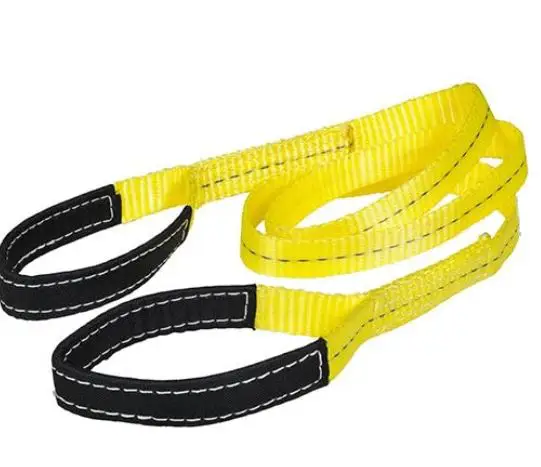 Features:
Polyester
Hi-Test webbing
Flat eye to eye loop
---
This reusable body sling is easy to clean. It is machine washable and can be air-dried at low temperatures. Made with premium quality polyester fabric, it is designed for use in both wet and dry environments.
This patient lift sling can be used with most brands and models. Each size can handle a weight capacity of up to 600 lbs., great for bariatric and regular use.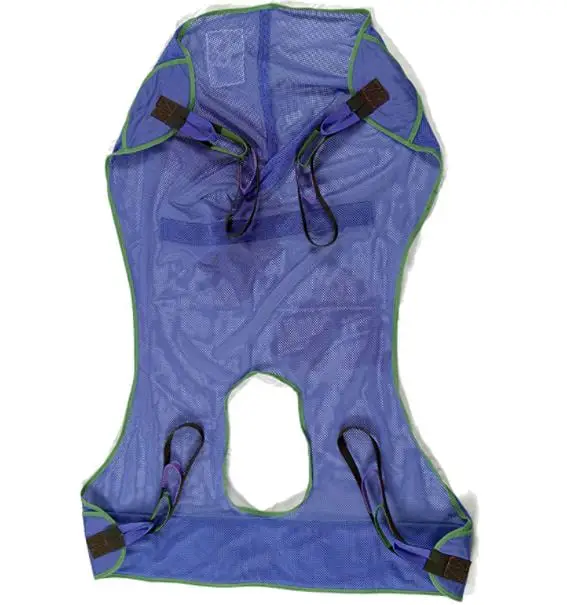 Features:
Nylon
Mesh
Universal compatibility
---
Single-Leg Standard Eye, wire rope slings, are constructed from two carbon sleeves & a specified length of wire rope that is Flemish spliced & mechanically swaged (pressed) to form an eye on each end.
It is exceptionally abrasion-resistant compared to synthetic slings.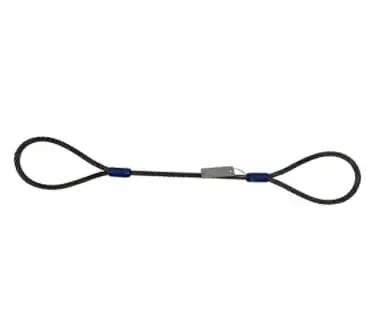 Features:
Vertical pull
Stainless Steel tag
---
Single Leg Chain Sling with Crosby Grab Hooks on Each End. Chain Slings are extremely cut-resistant & temperature tolerant when compared to their nylon & polyester equivalents, making them an excellent choice for many industrial & light-duty applications.
These Chain Slings are assembled in the USA with components sourced from high-quality domestic manufacturers.
Each sling comes with a heavy-duty Stainless Steel tag with a traceable serial number & the appropriate Working Load Limits and Certificate of Conformance.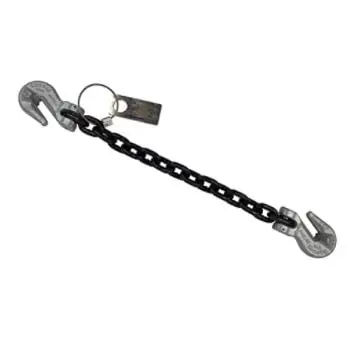 Features:
Grade 100 Alloy Chain & Fittings
100% Domestic Components
Length is measured from Bearing Point to Bearing Point
---
Common Questions About Types of Slings
What are lifting slings?
Linting slings are one of the most commonly used lifting equipment and an invaluable tool for completing lifts safely and efficiently. Lifting slings can be used with many other kinds of lifting equipment, increasing capacity and helping to provide more support for a load.
What are the three types of slings?
There are three main types of lifting slings that you can choose: chain slings, wire rope slings, and polyester slings.
What are the 2 types of slings?
When talking about patient slings, there are two main types of sling: one for a forearm injury and one for a collarbone or shoulder injury.
In addition, the Universal Sling is designed to fulfill a variety of roles and offers a more general solution to patient lifting needs. This type of sling supports the back and pelvis areas for muscle or bone issues users.
What are the three different types of slings OSHA?
The slings covered are those made from alloy steel chain, wire rope, metal mesh, natural or synthetic fiber rope (conventional three strand construction), and synthetic web (nylon, polyester, and polypropylene).
What are disposable one-way slings?
Disposable one-way slings are usually used to lift an object and load it into a vehicle. The slings are disposed of once the object is removed from the vehicle and sent to the destination.
What should you consider when choosing a sling?
Factors you should think about when picking a lifting sling include load-type, weight, lifting frequency, and the type of lifting movement that a job would demand.
Tips of Choosing types of Slings
Always confirm the capacity of your sling is suitable for your attachment method.