How to Wash Lululemon Leggings?
Like most of us, do you live in your favorite Lululemon leggings? We hear you; these are so comfy and stylish that you can easily do your work out, run a few errands and be back for dinner time and still be rocking them. Since we love them so much, we'll be telling you today how to wash Lululemon leggings, so you can continue to wear them for a long time.
Lululemon is one of the top fitness clothing brands and a sought gear choice for yogis. This is all because they offer very high quality, and if you've ever tried on a pair of their leggings, you know just how very comfortable they are. In addition, their style is pretty impeccable; you can spend a laid-back weekend in them and be ready to go out at the next second.
How to wash Lululemon leggings
You need to learn a few simple steps when washing your Lululemon leggings. You will always begin with pretreatment and follow with either hand washing or machine washing.
You must know that hand washing is the safest method to ensure Luon fabric lasts for as long as possible.
Pretreat
Pretreatment works in the sense that it gives stains (if there's any) personalized attention. In other words, this is the time you focus on getting stains out.
Pretreat stains with your chosen detergent. Focus on susceptible areas such as underarms, necklines, and waistbands.
To remove odors, presoak the item for 30 minutes in cool water mixed with ¼ cup of vinegar.
Hand washing
Note that hand washing is highly recommended; it is considered the safest method for washing the Lululemon fabric. Follow the steps:
Add 2 capfuls or a squirt of detergent to a washbasin or sink filled with cool water.
Submerge the item and gently agitate the water with your hands to distribute soap evenly. Soak for up to 30 minutes.
Rinse well by running cool water through the item until the water is no longer soapy.
Do not wring. Instead, press the water out of the item.
Machine wash
Turn the item inside out
Please place it in a Mesh Washing Bag; this will help preserve elasticity and prevent tearing and snagging in the washing machine.
Select the delicate cycle and use cool water.
Add the appropriate amount of detergent according to the machine and load size.
Common Questions About How to wash lululemon leggings
What is the fabric your Lululemon leggings are made of?
86% nylon and 14% Lycra is a trademarked fabric of Lululemon. The fabric is primarily used in most of Lululemon's leggings and performance wear products.
What is Luon?
Luon is the name of their trademarked fabric, It is mostly made of nylon, but the Lycra in nylon material gives these pants a nice stretch and helps keep you cool during a workout.
How to dry Lululemon leggings?
Luon falls in the activewear and performance fabric. As a result, it should always be air-dried. Always remember that air drying is the best way to care for your lululemon leggings. Otherwise, you may end up with leggings which elasticity is not the same; if dried in the dryer, they could also lose moisture-wicking properties.
How should lululemon leggings be stored?
Your leggings will do great in a breathable cotton storage bag to protect items from bugs. Always store them clean.
What kind of detergents should you use for lululemon leggings?
Be sure to use a high-performance free and clear laundry detergent to wash your Lululemon, and you enjoy your Lululemon for much longer without having to replace it.
Your chosen detergent should always be designed for cold water. Lululemon recommends using a cold wash on almost all of their products, so use a detergent that's formulated for a cold wash.
Powder detergents are also a smart choice for your lululemon's; the reason is that these pack more cleaning power and eliminate soils and debris much better than liquid detergents without leaving behind any residue that will trap sweat and odor.
What you really don't want in your detergent contains optical brighteners, dyes, and fragrance since they leave a residue on the fabric that clogs the material's pores, causing bacteria and soils to get trapped within the fabric.
Recommended Products
Active Wear is formulated specifically for activewear. Unlike conventional detergents, it comes with three types of enzymes capable of going deep into the crevices of the technical fibers to dissolve and remove bacteria, oils, and dirt. It also contains natural chelating agents that bring your clothes back to their original state.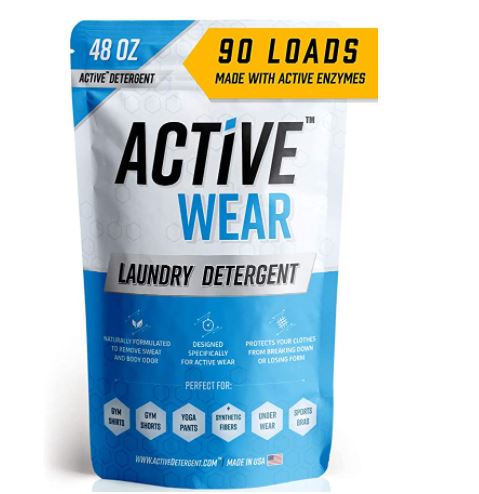 ---
Zero fragrance, Zero dyes, and zero fillers. Just a high-performance formula that's proven safe and Safer Choice Certified. Even old activewear odors don't stand a chance. Our enzymes clean deep and remove the funky buildup for rejuvenating results.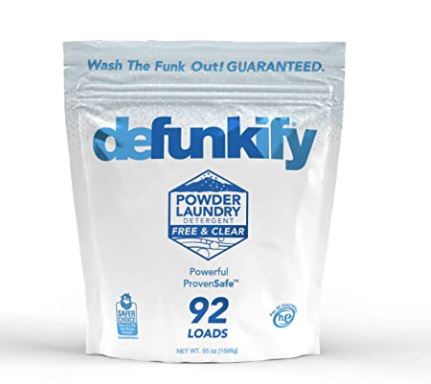 ---
The best sports detergent, safe and gentle for all fabrics from synthetic nylons to cotton and wools. Use on yoga tops, leggings, sports bras, or compression shorts and also on towels, sheets, and all your laundry.
Do not leave leftover residue behind that corrode and clog your high-performance gear. Free of Parabens and SLS. Vegan Friendly.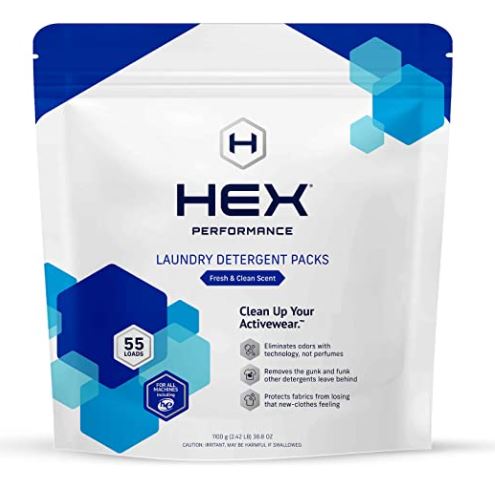 ---
Tips on How to Wash Lululemon Leggings
Always check the care and content labels for specific information on how to care for your gear.
Avoid using fabric softener because it coats the technical fabric and inhibits its wicking capabilities.
Turn your gear inside out and wash it with other synthetic fabrics.
Do not wash your leggings with anything abrasive, such as denim or garments with Velcro or zippers.
Wash bright colors alone before you wear them
Bright color gear should be washed with other similar colors
Bright color gear is best to stay away from other fabrics.