How to make gold paint?
Wondering how to make gold paint for your next artsy project? We hear you. Gold is a sought-after color for paints and crafts; it represents, among other things, magic, wealth, and glamour. However, it is not the easiest color to work with, so today, we'll show you how to make gold paint.
If you wish to make gold paint at home, it is totally doable. However, there are a few things you should know first. The gold color results from the combinations of other colors, and it can be a little overwhelming to mix because it has warm and cool undertones. But you already knew that.
How to Make Gold Paint
Tools:
Acrylic paints: yellow, brown, and white
Paint palette or paper plate
Palette knife
Paintbrush
Directions:
Squeeze a dime-sized quantity of yellow paint onto the paint palette or paper plate.
Mix in a small amount of brown paint, approximately one part brown to 10 parts yellow, using the palette knife.
Clean the palette knife between colors. Warm water should do just fine, as long as the paint is still wet. Otherwise, a drop of dish detergent should do the trick.
Mix in a small quantity of white paint, approximately two parts white to 10 parts yellow.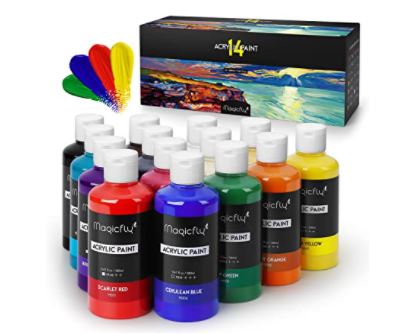 All colors are more vibrant, thick, and creamy. They glide smoothly, easily blend and dry quickly, safe and non-toxic for humans and the environment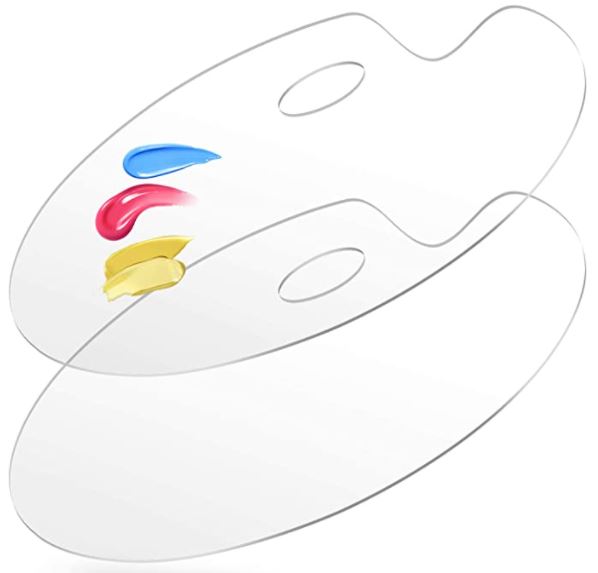 Acrylic paint holder is super easy to clean, no matter if the paint is wet or dry, saving users the trouble of cleaning pigment.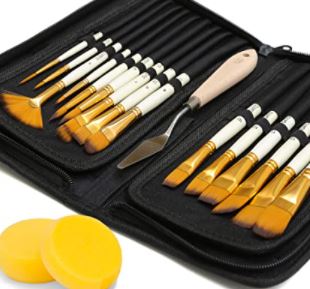 Ideal for watercolor, gouache, ink, oil, tempera, acrylic paint/body, nail, face painting, action figures, scale models, miniatures, dollhouses, rock painting, adult coloring books, wargaming, or paint by number.
Common Questions About How to Make Gold Paint
What is the meaning of gold color?
Gold. The color of royalty. A symbol of wealth. And a signal of both affluence and prestige. It also symbolizes magic, wealth, and glamour.
We associate gold with the mineral from which it gets its name. As such, we link it with power and wealth. A side effect of that is that gold also represents order and stability. It commands respect.
Is gold a warm color?
The color gold sits on the warmer side of the color wheel. It can add some energy to your piece as a warm color, but since it's also highly regarded, it provides some elegance and weight to it as well.
Overall, if you're trying to add some prestige to your artwork, then a splash of gold will go a long way.
Is it hard to mix gold color paint?
Gold is one of the most difficult colors to mix because it has both warm and cool undertones.
As a color of paint, it is not the easiest to mix. But it is easy to get too light or too dark and look like rust or spicy mustard.
What colors make gold?
Several color combinations will result in different shades of gold, including
Yellow – Red – Blue
Mix the yellow and blue to make green.
Add Red to make Brown.
Add more Yellow
Black – White – Yellow
Combine the White and the Black to make Gray
Mix the Gray with Yellow
Orange – Yellow- Brown
Mix the Orange and Brown to get a Terracotta color. Terracotta is a Sienna shade that is a very red Earth color.
Mix the Terracotta with Yellow.
What two colors make gold?
The easiest color mixture for gold color paint is Yellow and Brown.
Start with Yellow.
Add in a small amount of Brown. A little goes a long way.
Depending on the shade you're after, either add more Yellow or more Brown till you get the desired Gold paint you want.
How to mix gold paint with other colors?
Mix red, blue, and yellow paint to get brown. Add the brown and white to yellow for a gold color.
Take yellowish gold and add gold sparkles to give it the sheen of gold.
Mix yellow, orange, and brown paint and add golden sparkle for that metallic sheen.
What colors go well with gold?
When figuring out how to employ gold in your next project, it's helpful to know what colors it can combine to create a balanced aesthetic.
Gold mixes well with cooler colors to create more of a dynamic result. Purple and blue are considered the best options. Red and orange mixed with splashes of gold can be both exciting and vibrant.
Things to Know About Gold Color
Since gold is considered a warm shade, you can combine it with cooler colors to create a dynamic result.
Typically, gold should be employed as a means of drawing attention. As a focal point, it works well because it naturally attracts our eyes.
Gold is not always good in large quantities. Since the color itself screams privilege and opulence, having too much of it can easily overwhelm any other hues that you may employ.
You don't want gold to be too bright and shiny when using gold as a base color rather than an accent.
Metallic gold paints are perfect for accentuating a part of your piece, but less is always more.
Look to make the gold shiny if it's a representation of something. If it isn't, then try to make it metallic without being too flashy.