Stackable Birthstone Rings Are So Cool.
We thought you might like to know more about it for those who are into it. And because a birthstone stacking ring isn't just like any other ring, we'll tell you today about some of the best stackable birthstone ring ideas available and where you can find them.
Stackable birthstone rings are super fun because they allow us to get creative, and at the same time, they represent something dear to us, like special people or some event. Besides, you can choose the birthstones of your children, your family, yourself, and your partner. The choices are endless.
Stackable Birthstone Rings ideas
This beautiful and delicate sterling silver stacking birthstone/gemstone ring is perfect for the mother, grandmother, or other special someone. Featuring a tiny 3mm stone and ultra-slim band, these are perfect for stacking. You may choose your favorite colors of the season and stack these silver beauties to your heart's content for a fun statement and a collection that will go with any ensemble.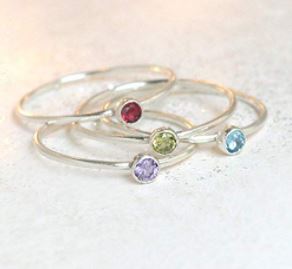 Highlights:
Metal: Sterling silver .925
Material: gemstone
Setting: Bezel
Resizable: No
Stone Creation Method: Simulated
Stone Width: 3 millimeters
---
This gold opal ring is perfect standing alone or slim enough to look great stacked with friends. The minimalist will love this as a unique engagement ring. The petite 3mm gemstone and 1mm gold band combine for a perfectly feminine and understated look. Opals are a modern classic.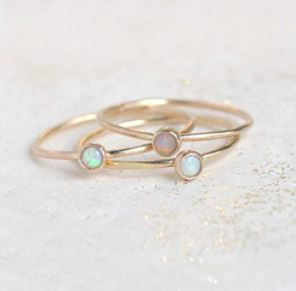 Highlights:
Metal: 14k gold-filled
Material: gemstone
Resizable: No
---
These tiny 3mm stone and ultra-slim band are perfect for stacking. This is a hand-made ring from gold-filled metal.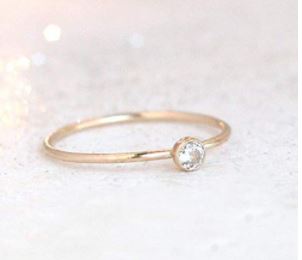 Highlights:
Lab-grown 3mm birthstone
1mm band
Gold-filled band
Solid gold bezel setting
---
A CZ emerald diamond sparkles on a silver, gold-filled, or rose, gold-filled band. This diamond ring is just right – bold yet minimalist enough for everyday wear. This emerald-cut rectangle CZ diamond compliments any of our other stacking rings! Mix and match with an array of gemstone rings for a fresh, layered look.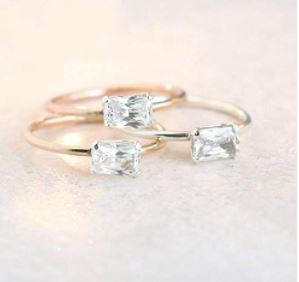 Highlights:
It features a 6x4mm rectangle cubic zirconia diamond
Sterling silver prong setting (all bands)
Stone Length: 6 millimeters
Stone Width: 4 millimeters
Metal: sterling silver .925 or gold-filled
Material: gemstone
---
This ring is gorgeous, made from solid 14k/Silver Two-Tone and high-quality premium materials; gems; faceted stones; Swarovski crystals and hand-stamped for Authenticity as well as FTC law Approved.
Celebrate your most memorable occasions from the heart, enhance your everyday fashion with this beautiful ring, and make a statement look.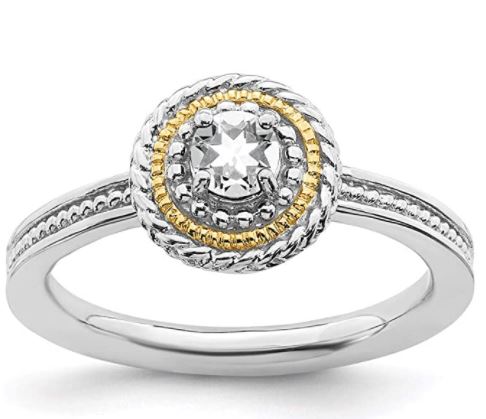 Highlights:
Material Purity: 14K
Finish: Polished
Stone Type1: White Topaz
Material Color Two-Tone
---
Make the perfect and thoughtful gift with this ring, featuring sterling Silver Bands that are 1.5mm wide. Birthstones are 3mm Swarovski crystals.
After the rings are cast, they are oxidized to produce the antique look, creating an heirloom piece to be cherished forever. We then set a birthstone crystal in each ring to signify the birth date. If the ring ever tarnishes, it can be brought back to its original shine with a polishing cloth.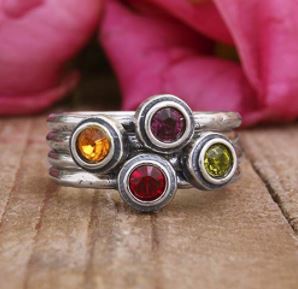 Highlights:
Metal stamp: 925 Sterling
Metal: Sterling silver
Width: 1.5 millimeters
---
These dainty and stackable rings feature beautiful, tiny faceted natural birthstones carefully set on a thin, simple ring band.
This is available in either 18k vermeil gold or Sterling Silver. This thin band is perfect for everyday wear or stacking with others for a Mother's Ring set.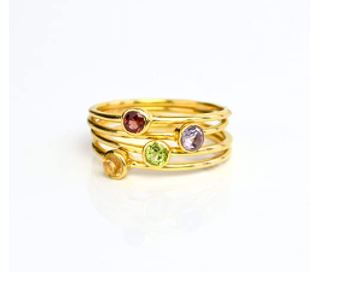 Highlights:
Metal stamp: 925 Sterling
Metal: Vermeil
Setting: Bezel
Resizable: No
---
These stackable rings for women create such an effortlessly cool look. This Opal ring featuring a 5mm round-cut created Opal with a multidimensional iridescent hue is the perfect everyday accessory. Adorned with premium-grade cubic zirconia to give it a luxurious sparkle in the sun. A must-have for any wardrobe!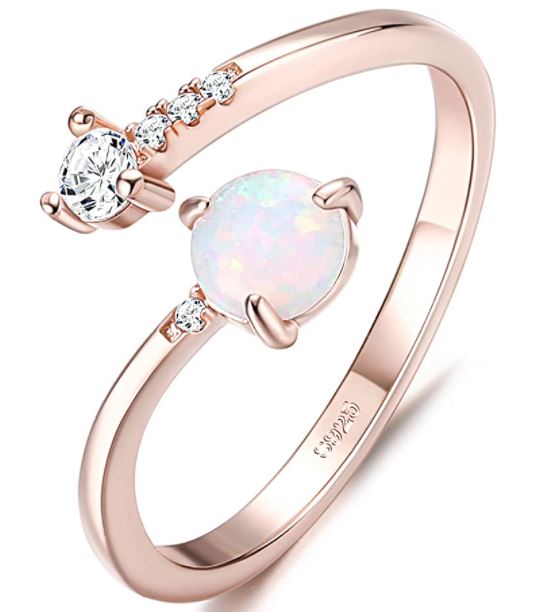 Highlights:
All Sterling Silver
Opal is a precious gemstone with a special color-changing effect. It is known as one of the most beautiful and precious gemstones in the world.
---
Show off your Eternal love for your sweetheart with these stylish and timeless eternity bands. Makes the perfect gift for any awesome lady. Great gifts for Mom, daughters, or Grandma on Mother's Day, anniversary, Birthday, Wedding celebration, Formals, or promos.
Highlights:
February Birthstone | Purple, Amethyst Crystal
Swarovski Crystal
---
Check out this fantastic ring made from solid 925 sterling silver and high-quality premium materials; gems; faceted stones; Swarovski crystals and hand-stamped for Authenticity as well as FTC law Approved.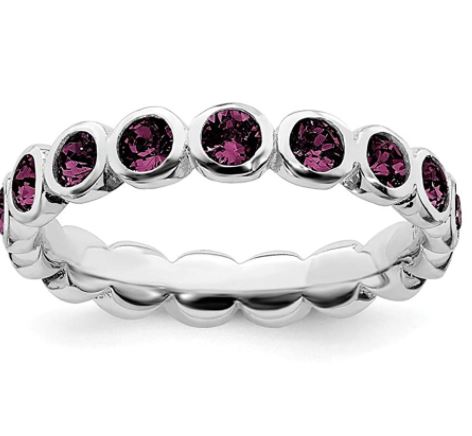 Highlights:
Material Purity: 925
Finish: Polished
Stone Type 1: Crystals by Swarovski
Stone Color 1: Purple
Plating: Rhodium
Band Width: 3.5 mm
Stone Setting 1: Bezel Set
How To Choose Your Birthstone Stacking Ring?
Decided what your rings will represent
The first step is to decide what you want your ring to represent, what meaning it will have for you.
Choose your stones
The list of stone options that represent each month are:
January – Garnet
February – Amethyst
March – Aquamarine or Sky blue topaz
April – Cubic zirconia (aka CZ) or White topaz
May – Emerald
June – Moonstone
July – Ruby
August – Peridot
September – Sapphire
October – Opal
November – Citrine
December – Turquoise, Tanzanite, Swiss blue, or London blue topaz
Cut off the Birthstone
The cut refers to what shape of the stone would you prefer. Shops offer a variety of stone cuts, including rose-cut, trillion cabochon, etc.
Generally, stacking rings look great with a longer shaped stone, e.g., a pear, oval, octagon – with two smaller stones stacked together to one side.
Band Finish
The finish or texture of the band could be left smooth or could have a hammered finish. A mix of the finishes gives a really nice contrast and adds texture to the ring set.
Sizing
Make sure you know your size before buying a ring set. You could measure an existing ring that fits you perfectly on a ring gauge or use a finger sizer.
---
Common Questions About Stackable Birthstone Rings
What are birthstones?
Each birth month is assigned a gemstone (or two) with a specific meaning and significance, known as birthstone. Some birthstones may be associated with luck and prosperity, others with health and well-being.
What's the point behind stacking birthstone rings?
The basic idea behind the stacking rings is to choose a set of rings to represent special people or times (e.g., anniversaries) in your life. Birthstones have a deep meaning for some people and are often given as meaningful gifts to loved ones or even as a treat for yourself.
Can rings be bought individually?
Sure! You can buy each ring individually – as a pick n mix style, build your own stacking ring set idea.