How to Get Wrinkles Out of Polyester?
Nobody likes wrinkles on their clothes, and with polyester being a popular fabric, it is inevitable not to fight wrinkles in your polyester garments. But it doesn't have to be a big deal if you know what you're doing. For those who feel a little lost, find out how to get wrinkles out of polyester.
Learning beforehand how to get wrinkles out of polyester is a skill everyone should know. But relax, contrary to what you may think, it is not that hard; however, there are fundamental steps and tips that one should know to kiss annoying wrinkles goodbye effectively.
If you've tried in the past to remove wrinkles out of polyester to no avail, you've realized there is a wrong and right way to approach this life predicament. So get ready to be happily surprised because today, we'll be sharing with you everything you need to know on how to wrinkles out of polyester the right way.
How to Get Wrinkles Out of Polyester
Method 1: Steamer
Turn your garment inside out and hang it on your shower curtain rod. A hook on the back of your bathroom door is also a good idea.
Fill your steamer and allow it to heat up.
Hold the steamer, so the nozzle remains at least an inch away from your garment, and move it slowly up and down.
If you don't have a steamer, you can arrange your garment on an ironing board or a folded towel.
Then simply hold the iron a couple of inches away from the garment and set it to its steam setting.
Recommended Product
The Jiffy Steamer J-2000 quickly and efficiently removes wrinkles from most fabrics and is perfect for home or light commercial use.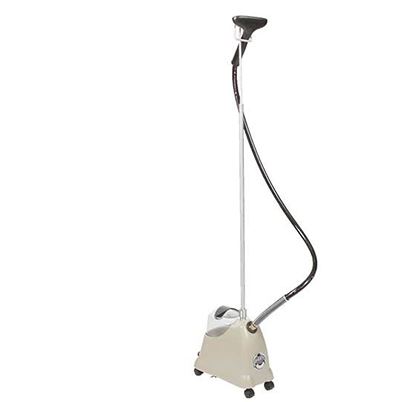 Highlights:
1300 watt solid brass heating element
1.5 hours steam time per filling
Ready to steam in 1 minute
Method 2: The dryer
Turn your clothes inside out before you begin.
Wash your garment following the instructions on the manufacturer's label. If in doubt, use cold water or the permanent press setting on your washing machine.
Include fabric softener; this extra step will help your clothes avoid static electricity in the dryer.
Keep an eye on your washing machine and remove the garment as soon as the cycle ends.
Set your dryer to either the PP, Delicates, or just the lowest heat setting.
Remove your clothes as soon as the cycle ends.
Immediately hang up the garment to avoid creating new creases while it is still warm.
Method 3: Iron
Turn your garment inside out before you begin.
Set your iron to its lowest temperature. Look for the synthetics setting on some irons.
Ensure you arrange your clothing on an ironing board, so it is neatly smoothed out and presents a flat surface for the iron.
Use a spray bottle to dampen the flattened section of your garment.
Lay a pressing cloth flat over this smoothed-out section of your garment. If you don't own one, you can use a kind of towel that doesn't have a fuzzy side.
Run the iron over the protective cloth, moving back and forth smoothly to avoid resting the hot plate of the iron on any area.
Recommended Product
Stainless steel soleplate – Easy gliding across different garments, smoothing hard-to-reach areas, and 1725 Watts of steam power.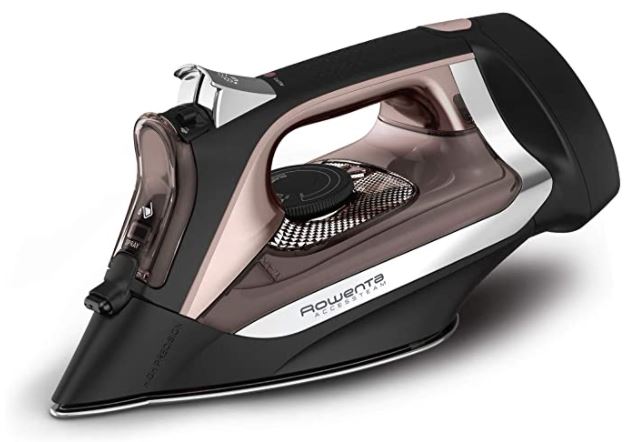 Highlights:
350 Plus Steam holes
3-setting thermostat knob
Stainless-steel soleplate
---
Common Questions About How to Get wrinkles Out of Polyester
Does polyester get wrinkled?
This fabric has natural wrinkle resistance because of its synthetic fibers. That said, this material can wrinkle under certain circumstances, so you will occasionally need to know how to get wrinkles out of polyester.
Is it difficult to remove wrinkles from polyester?
We won't sugar coat this; the truth is, polyester is a synthetic fabric that requires special care. One thing to consider is that it wrinkles very easily, and it cannot withstand high temperatures, so wrinkles can be a little harder to remove but not impossible.
Will polyester be damaged if you try to remove wrinkles?
Thankfully, there are several tips you can employ to remove wrinkles from a polyester item without damaging the fabric, such as washing and drying it, ironing on low heat, or steaming the fabric without getting the steamer too close to it the fabric.
What is the best way to get wrinkles out of polyester?
The best ways to get wrinkles out of polyester are to steam the fabric or place it in the dryer on a permanent press setting.
Should polyester be hanged or laid flat?
Once your item is wrinkle-free, hang or lay it flat to cool completely before you do anything else with it.
Is there plastic in polyester?
Because it is derived from petroleum by-products, polyester fibers are plastic. You may prefer all-natural fabrics like cotton and silk as more classy than artificial fabrics. Polyester was invented in the 1940s as part of the war effort.
Why is there a high demand for polyester?
Polyester became popular because of its easy care as well as its affordability.
Can polyester be ironed?
You can safely iron polyester, but it's a tricky process because high heat can damage or melt the synthetic fibers. Because of this, ironing should probably be your last resort.
What causes polyester to get wrinkled?
While polyester avoids wrinkling better than almost any other material, no fabric can completely avoid creases.
Polyester gets winkled because manufacturers often combine polyester and other kinds of materials to create blended fabrics. Blended materials like polycotton will wrinkle more easily.
Also, under some conditions, the fibers in polyester can be turned into adopting a new shape they should hold. This is how pleats and other shapes get heat-set into garments like pleated skirts.
Can the dryer damage polyester?
Indeed, the polyester fabric can melt, twist, or scorch when exposed to high heat. That said, the permanent press setting on most modern dryers was invented specifically for these synthetic fabrics.
General Tips on How to Get wrinkles Out of Polyester
When using the steamer, you may need to gently tug on the hem of the garment as you go or hold out a sleeve or pant leg to make sure all areas of the fabric get exposed to the steam.
Leaving your clothes balled up in the wet washer is a recipe for wrinkles. Avoid this by removing the clothes as soon as the cycle ends.
As you work, make sure you do not place your skin in the way of the steam also, though it should go without saying, never try to steam a garment while wearing it!
When ironing, if you need to iron a dress shirt, you could start with one sleeve laid flat across the ironing board. If you need to iron a dress or dress pants, arrange one panel of the skirt flat on the board, or smooth out one pant leg at a time on the ironing board.
Ensure you place your clothing on a hanger immediately after ironing it or removing it from the dryer.
Don't place your clothes in your closet while it is still warm.
Try to leave a little space between hangers.